New Haven Day School: Where Learning Is Fun & Play Is Important!
Our goal is to help your child experience and learn about God's love and to grow in every area – socially, emotionally, spiritually, physically, and intellectually. We follow the curriculum, standards, and guidelines of the National Association of Education for Young Children, so every child from 9 months through pre-kindergarten will participate in age-appropriate activities. You will always know what your child is doing every school day, through calendar plans posted outside the classroom and sent home each month. In addition, you will have the opportunity for regular conferences with your child's teacher. A monthly newsletter and Parent Connection Bulletin Board will keep you up-to-date on school activities as a whole.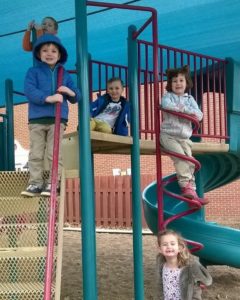 New Haven Day School also has a home for older children, through our Fantastic Friends program. Children enrolled in this program have playtime, fitness games, and arts and crafts, as well as homework time.
Our History
1965 –
New Haven United Methodist launches its Day School to better outreach the Tulsa community.
2001 –
New Haven Day School launches classrooms specifically designed to assist the special needs community.
2003 –
With the growing need at Carnegie Elementary, the after-school program is founded.
Our Beliefs
Making Disciples for Jesus Christ in the World, by being God's Love in Action.
As United Methodists, we have an obligation to bear a faithful Christian witness to Jesus Christ, the living reality at the center of the Church's life and witness. To fulfill this obligation, we reflect critically on our biblical and theological inheritance, striving to express faithfully the witness we make in our own time.